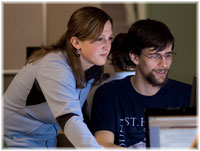 The Computer Science Assistance Center (CSAC) is a student resource for help with coursework and assignments. Located in the Janssen Engineering Building (JEB), Room 211, the CSAC is staffed by CS students from 8:30 a.m. to 5:00 p.m., all school days except finals week.
Many course instructors, TAs and graders for specific CS courses hold office hours in CSAC - these are especially good times for you to visit CSAC to get specific course-related questions answered. You are encouraged to make use of the expertise available through the CSAC and to let us know what we can do to improve the experience. The CSAC schedule is posted outside of JEB 211 and is usually duplicated on-line through the official UIdaho CS Web Page some time near the start of each semester.
There are now eight (8) computers available for use by students enrolled in any CS course. These computers use Windows 7 Enterprise, often with additional software needed for specific coursework or assignments. The computers in JEB 321 may also be used during times when the room is not used for class.